City Bowl Violin Project Report
---
April - June 2016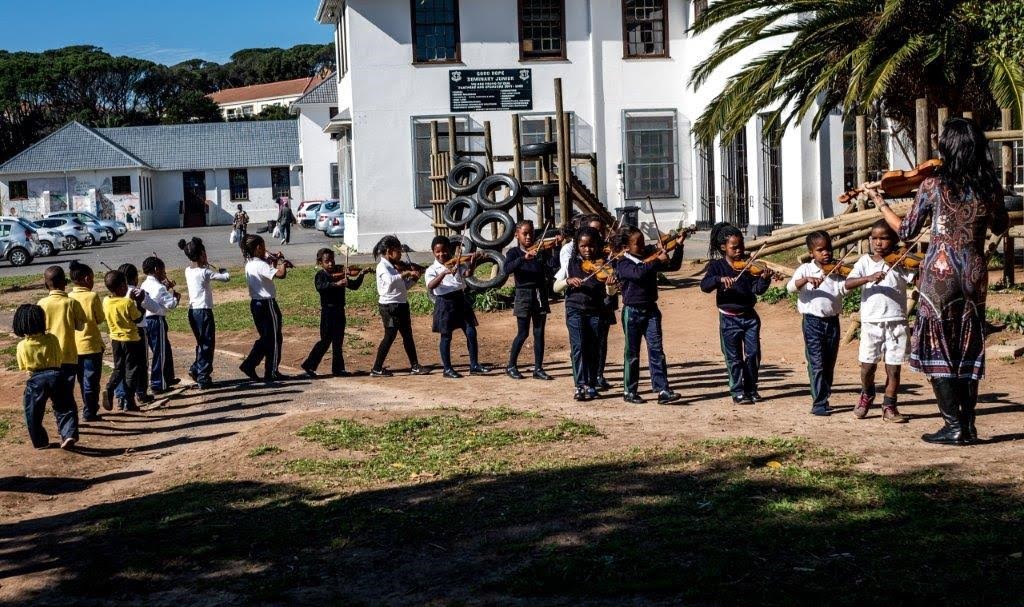 It has been a privilege to watch the violin players at Good Hope Seminary evolve over the past year.
Learning to play the violin in this school environment is also a challenge with all the interruption periods of school holidays.
One year violin playing represents approximately 8 months, and with this in mind the accomplishments up to this point is even more encouraging.
The enthusiasm and energy of these children coming from all township communities around Cape Town is overwhelming. Their ability to repeat exercises over and over reveals their eagerness to learn and their need to engage in serious learning skills.
The discipline that flows forth from the violin playing into all other subjects of learning is also remarkable within very short periods of time, and school teachers have testified to this all along.
This year a second group of grade Rís were started. Most of these 5 and 6 year old scholars never had anyone reading a story to them. They were not in an environments where they could use their fingers to build or play with games or even draw pictures. I have seen for a second time this year their inability to use their fingers when they arrive at school in the beginning of the school year. It requires from any violin teacher to literally move each of their fingers every day to allow them to feel the movement from each finger and to learn how to use fingers in a precise way.
The results of moving their fingers for a whole first term of the year is just miraculous. Since April they all achieved the ability to have control of their movements and start using their fingers independently.
The second term is also the start of them hearing and recognising the tones of each note and recognising melodic patterns and rhythms.
Several grade Rís of this year had no control even over their body movements and after the first 3 month period of violin playing they have a full body awareness and can react on any requirements, and have beautiful postures and awareness of each body part.
The advantage of the new group of this year is that they can listen and interact with the group of last year.
On several occasions in this second term I have asked the senior group, now 6 and 7 years old, to help with the younger ones, to their great joy and pleasure.
They love been the older ones teaching the younger ones and it is quite interesting to see how skilful they can Ďteachí the younger ones and help them find finger patterns on the violin.
The group of 2016 are all established on a very solid foundation now and with the help of the visiting teachers this term from Europe, they will evolve in the repertoire to a level that is more than what anyone could have expected. The European teachers have commented as previously that the results obtained at Good Hope is far above average and above what they achieve in standard Suzuki schools in Europe. The reason for this could also be the fact that they are in contact with their teacher every day and practise with their teacher and not with the parent at home as it happens traditionally.
We are planning many opportunities for the kids to play informally and formally throughout this term, which is a wonderful motivation. They will also play for all the other classes in school hours in order to share this with the rest of the school students and make them feel part of it.
Maria Botha